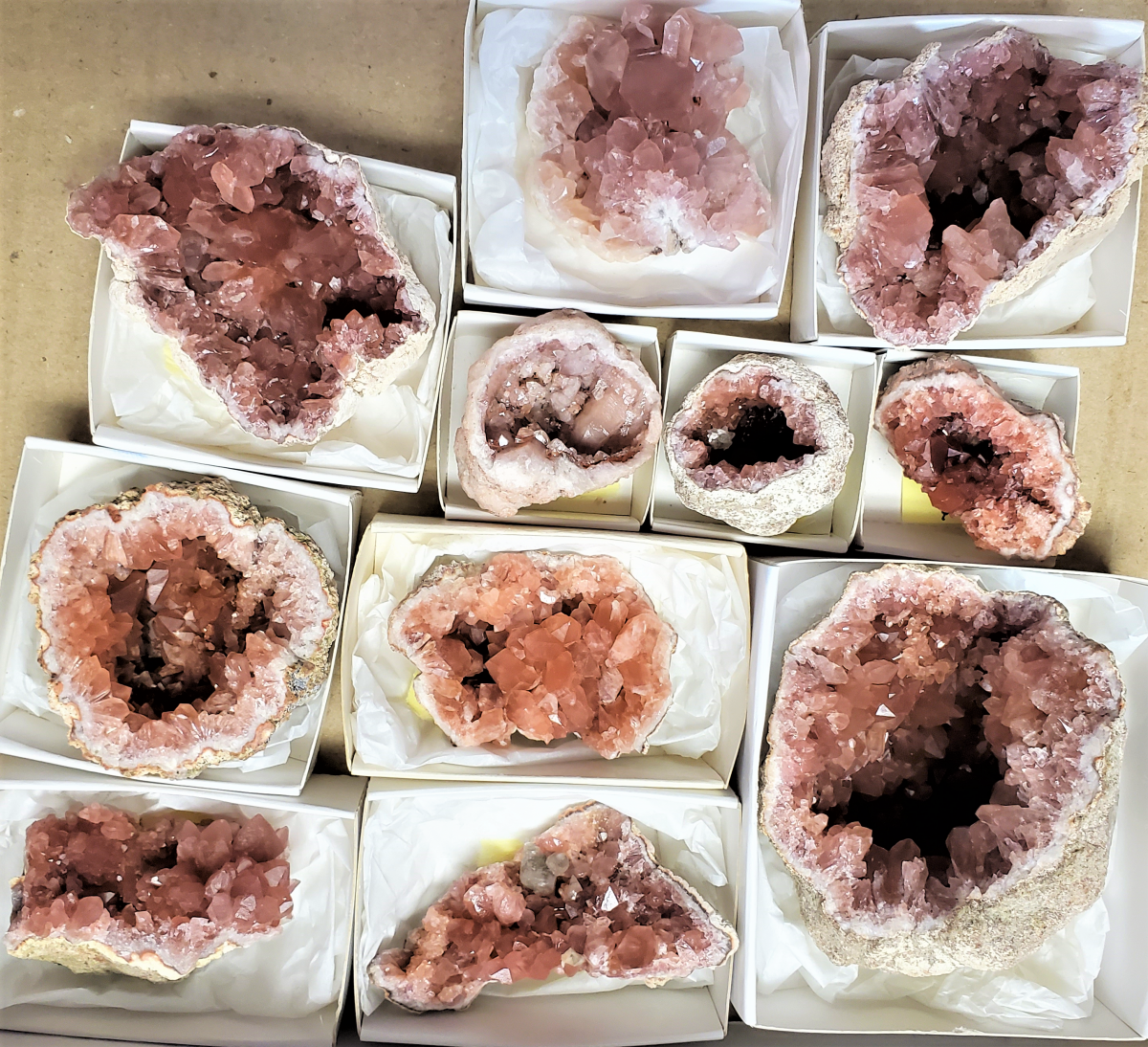 Pink Amethyst
Natural rosy quartz geodes were recently discovered in beautiful Patagonia, Argentina and exude beautiful tones of rose, mauve and salmon pink tones. The color of Pink Amethyst comes from inclusions of hematite and iron inside the quartz points. It, is the soft-hued, feminine version of darker purple amethyst. But don't mistake its softness for weakness
It is a perfect crystal for strengthening the heart chakra energy center. This timely arrival of Pink Amethyst in geode form serves as a reminder that the love we seek is already within us and that now is the time to radiate this love to make the world a better place.
Meditating with this crystal I noticed my crown chakra opening up to allow healing energies to flow down. Then a feeling of overall calming and content bathed my aura. The grounding energies of hematite help one to connect with the Earth's resonance and to release unwanted stress and trauma from the heart chakra.
Additional Ideas for using your Pink Amethyst:
Place a geode by your bedside table to bring more loving energies to the bedroom.
Use it in a crystal grid and surround with heart chakra crystals like rose quartz, emerald, rhodonite, thulite and rhodochrosite.
Add one to your sacred space and surround with roses or rose petals and anoint with rose essential oil to raise more love vibes!
Place one over your heart chakra while meditating and play your fav heart frequency healing meditation music on YouTube.
Want to attract your soul mate? Write a small intention note and place it on top of the geode to manifest a loving relationship in your life.
Having relationship issues? Place one face down over the heart area while laying down to transmute and release emotional trauma.
Keep one in your kid(s) rooms to create a loving and peaceful space.
Place a few on a dining table during family dinners or gatherings to encourage unconditionally loving energies between those in attendance.
A cleansing of energy in a particular space or a person. Amethysts are a form of quartz, and as such, possess similar cleansing characteristics. These stones are known for their abilities to absorb questionable, neutral, and bad energies, cleanse and release them back out into the surrounding space.
A movement toward emotional balance and overall peace. This stone is known to instill feelings of understanding, calmness, trust, and grace.
. Whether wearing your pink amethyst or keeping it nearby throughout the day, don't be surprised if a deep sense of "knowing" washes over you giving you Increased intuition and clarity. These rare pink amethyst geodes are so pretty, and they evoke such powerfully warm feelings of love, peace, and serenity.